Artist: Claudia Castillo-Quintana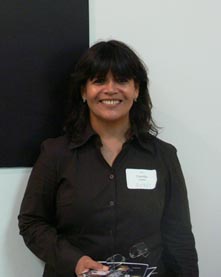 "My work is a process of transformation. I start with an inspired idea from the emotion that
is evoked in me from nature, earth and water. The outcome is instinctive and spontaneous:
just colors and forms. From the moment of inspiration I allow myself to be moved and
transformed. I think about colors used by great artists that have influenced me and I am
stimulated by the forces and power of those colors. I draw upon those emotions to create
my own sense of realism which is an abstraction that reflects my own reality of continual
change."
Education
• The Finishing School, New York 2004
• Frank Monaco Gallery, Hollywood 2003
• Nicola Vigini Studio, Texas 2002
• The Art Institute of Ft. Lauderdale - Residential Design -September 2000
• School of Interior Decoration - Degree in Interior Decoration - Bogota, Colombia 1998
• National University of Colombia - Art History - Bogota, Colombia 1986
• Pontificia Universidad Javeriana - Bachelor of Science of Communication - Bogota, Colombia 1985

Exhibitions
• Island City Art Walk - Wilton Manors, 2009-2013
• Art Take Miami: 1,001 Artist Project, Art Basel Miami 2012
• Design Center of the Americas Design Shop 2010, 2011
• Basha Gallery, North Miami, 2010
• Broward Health Foundation 2010
• Art Bravo Exhibit – Art Serve, 2009, 2010
• Aqua Girl Foundation - Miami, 2009 & 2010
• The Bakehouse - Aids Foundation Exhibit - Miami 2008
• Broward Art Guild - Ft. Lauderdale 2004
• Broward Art Guild Gallery 721 - Fort Lauderdale 2002
• The Art Institute of Fort Lauderdale - Mark K. Wheeler Gallery 2002

---
---
PLEASE CONTACT US AT 954.274.7047

FOR ARTWORK PRICING AND AVAILABILITY